Yigal Azrouël
UX • UI • CREATIVE DIRECTION
Responsive Website Design for luxury fashion
CLICK HERE FOR THE LIVE WEBSITE
THE PROBLEM
:

The high-end fashion brand, Yigal Azrouël, celebrated 20 years in fashion and needed a brand new website to reflect the brand's aesthetics while providing an easier shopping expeirence.
INSIGHT:

The costumer is accustomed and trusts the conventional user experience flow that is associate with high end fashion brands.
SOLUTION:

While reprogramming the existing Shopify platform and using simple and clean design, I created a lux and responsive enviorment that allows the collection to shine through while keeping a delightful user experience.
HIGHLIGHTS:

Keeping copy minimal, focusing on large beautiful imagery that showcases quality and details, adding filter options, adding "quick shop", adding "collections" page to introduce a shopping experience through an editorial view.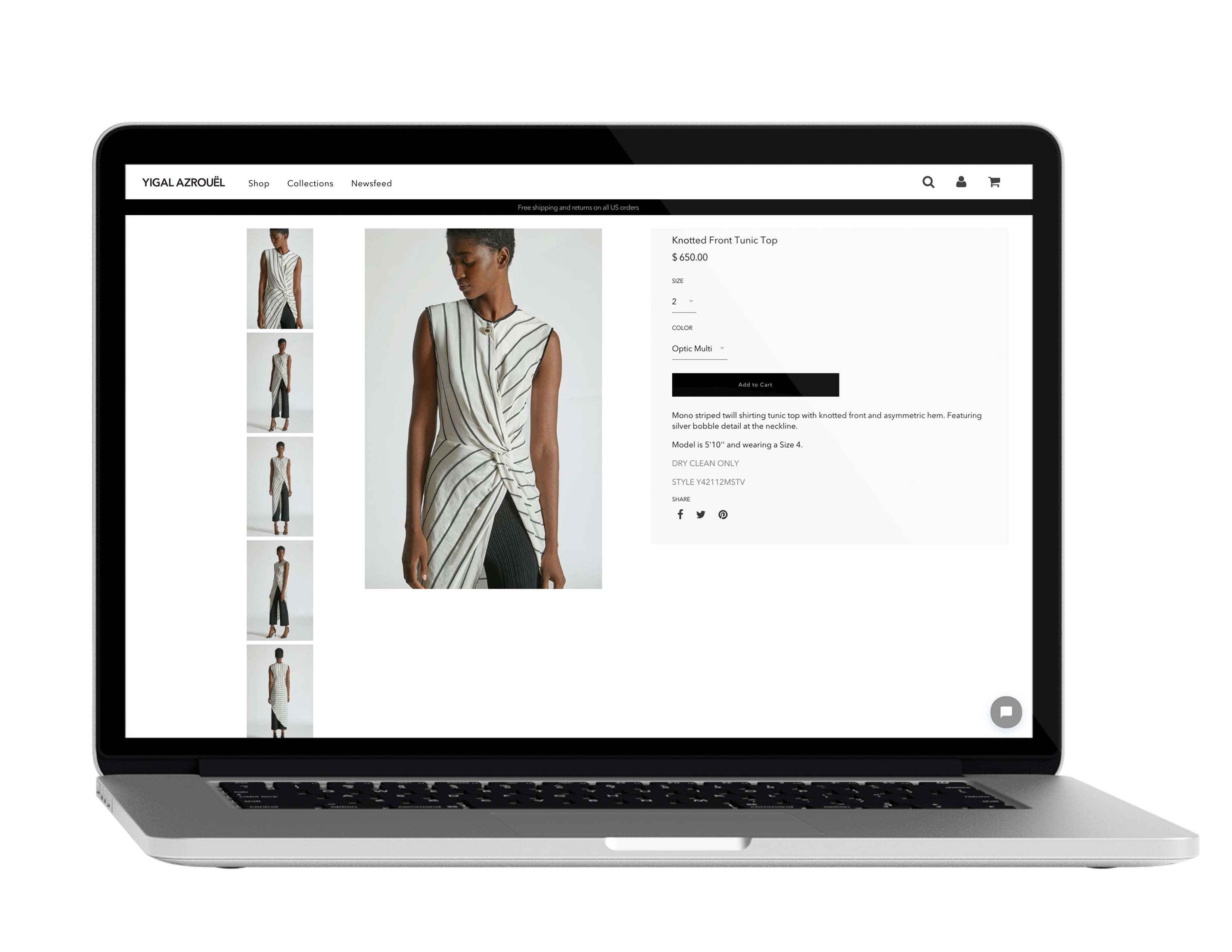 RESULTS:
A 30% increase in convertion rates within the first 3 months, a higher brand perception amongst direct consumers and wholesalers.
Partners: Programmer Matthew Epler
Branding Materials
GRAPHIC DESIGN • CREATIVE DIRECTION
SPRING 2018 COLLECTION LUNCH
:

With the changes in the fashion industry we've decided to skip a fashion show during fashion week, but invest in an interesting collaboration with a creative photographer for a digital debut. The collection focused on the juxtaposition between natural and geometric elements, so we shot outdoors in Kent, CT. In post production I designed an intriguing layout that create emphasis on the concept of the collection. These designs lived on the site, in marketing materials and press.